I'm just scraping myself up off the floor. Literally. Last night I slept on my couch, in my bed, on my ottoman, on a storage bench and, yes, on the floor. You see, I think I've been very vocal about our Thanksgiving tequila tradition. Last night was no exception. In fact, it was epic. There were loving, heated discussions at decibels that can crack ear drums. There were torrid hookups and meltdowns, singing, crying and vomiting. There was also a lot of love. My family and friends came together and weren't shy about expressing their feelings. Aided by the tequila, it was a true love fest. And I got shitty drunk.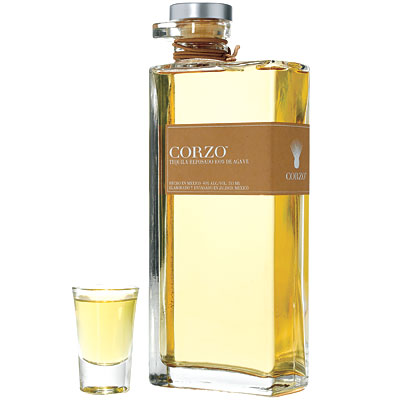 Now, as a look back on the day, which began at noon and ended around 10:30pm, I can't recall any stress from cooking or the flow of the night. Everything went nearly perfectly. I'll blame the tequila for the slightly overcooked bread puddings and definitely for the full-on-burnt-croutons. Imagine how I could fuck up BOTH dishes with Tartine Country Bread? Oy.
So, I'm standing by my previous post. My preparations were spot-on and the food exceeded my expectations. Which leads me to another topic on Thanksgiving that is post-worthy. How do you plan a day of food, with a lot of attendees without suffering from cacophonous plate syndrome? Typical Thanksgiving just doesn't work. Sweet potatoes AND mashed potatoes on the same place? Turkey, stuffing, cranberries, vegetables, bread rolls side by side? Sorry - it's just doesn't work. Yeah, I know, it's your tradition - you look forward to it every year. But from a foodist perspective, it's just plain wrong.
So, for the past ten years or so, I've been doing Thanksgiving in courses.  Start early, plan to include some of the typical flavors in the starter courses, but eliminate some of the clutter from the main course. All tolled, I probably cook 3-4 starter dishes, small plates, lots of flavor. Then comes the main course, typically with Turkey, potato, stuffing, veggie. It's still a lot, but works a lot cleaner than the norm. Then we have two or three dessert options.
I typically reinterpret sweet potatoes. This is a food that can have many faces and has shown up as Sweet Potato Risotto, Sweet Potato Tortilla Espanola, Sweet Potato Gnocchi and this year's Sweet Potato Agnolotti with Browned Butter Sage Cream. I used a Thomas Keller Recipe 'to the letter' and it was drop-dead amazing.
This year, the menu looked like this:
Guests arrive at noon. Cousin Amy rocked a charcuterie ensemble for the ages. AND she made Gougères, straight outta Julia Child. They were stunning.
1. (1:00pm) Crab-Cake-Style Shrimp Cakes with Poblano Greek Yogurt Puree 2. (2:00pm) Sliky Celery Root Soup with Black Forest Bacon 3. (3:00pm) Sweet Potato Agnolotti with Browned Butter Sage Cream 4. (5:00pm) Cider Glazed Turkey with Lager Gravy Savory Bread Puddings with Green Onion, Sage Sausage and Goat Cheese Marsha's Mashed Potatoes Dirty Girl Farm's Radicchio Salad with Pomegranate Vinaigrette 5. (8:00pm) Amy's Pear Crisp with Bourbon Cream Tartine Coconut Cream Tart and Assorted Cookies "Baked" Red Velvet Layered Cake
The timing went off without a hitch. Because everything was prepped, it was just a matter of minor finishes and assembly for each dish. After we finished a dish it gave us a chance to clean up and mingle. It feels like you really get to catch up with people this way.
I'm happy to share most of these recipes, but frankly, you can google or search foodandwine.com to uncover many of them (my crab cake recipe is on this site). I do a lot of interpretation and adaptation of the base recipes, but it's a good start. Some day I should share the soup recipe - I kinda rocked it.
So ditch the traditional nonsense. Go for Thanksgiving in courses. Your guests will appreciate it and soon forget the messy plate piles of portions past.
* Note: Crab season didn't happen this year. The fisherman are in dispute with the buyers over $.50 per pound. It's a shame, as this is our favorite tradition each year. The substitution of shrimp was a game-saver (they were quite good), but it just isn't the same. A big shout out to Tom Borden for paddling his surfboard out in epic swells to drop traps. Unfortunately he on came up with two crabs (he believes the traps were poached).