Ok, so admittedly yesterday's post was kinda lame. If you're a tourist and come to SF for the first time, they were the Mission-must-sees. There's no doubt they are high on the list of best in the city, but the real foodies are looking for some more snobbish nods. I'm not going to get all private-dining-club on you here, but these require a little city knowledge to uncover. So, round two, in no particular order: Salt House Poutine: If you read my post on this dish [LINK] you'll know that this is WAY up on my list. In fact, if you don't like it - I don't like you. Because this has all the elements that a truly good person would like. Crispy, double-fried-fries - check. Artisan cheddar - check. Braised short ribs gravy - uh yeah. Can I has Poutine?
Meeting House Biscuits: Dropping old school on you. Apparently there used to be a Meetinghouse Restaurant of some sort. I don't recall how I discovered them but it was an online thing and you can still order Joann's un-fucking-believable flakey, buttery, crispy-yet-moist, airy biscuits here [LINK]. If you live in the city, I kid you not, Joann will hand deliver them to you. Elsewhere they are mailed. If you're lazy, you can get them at the Elite Cafe on Fillmore. There is supposed to be a revival of the Meetinghouse in some food-court concept at the JCC, but I haven't been. Needless, many a biscuits and gravy I've made with these lovely nuggets beneath.
Universal Cafe Chicken Under a Brick: What sucks about this town is that Universal Cafe doesn't get it's props. I'll often mention it as one of my favorite restaurants and people will say "yeah, I love their brunch". Yes, their brunch is probably the BEST in the city. There I said it. It rules. But, they also do one of the best lunch and DINNER services in the city. I'd put the place in my top 10 for all three. And the dish that gets me.... Chicken under a brick. Lot's of restaurants try. Nobody else comes close (sorry Flour and Water and Pizzaiolo). Leslie Carr Avalos is genius in many ways, especially in her ability to brine a bird, crisp its skin and serve it with sauces and sides that bring out everything that is good.
B44 Paella: This one is about the entirety of the experience. The dish itself is, in my opinion, the best Paella in the city, when done properly (it can be very inconsistent). The flavor pops and the ingredients are spot on for most varieties. Where they often shine [and fail] is in creating the kick-ass crust that adds some smoke and sweet and takes it to another level. Ask them to make sure the Paella is well-done. But moreover, make the experience by eating a bunch of funky seafood starters and downing two bottles of Rosé (sparkling works great) on a sunny afternoon (a little late so the crowd dissipates) in the outdoor seats on Belden. Tony, are we ready for another??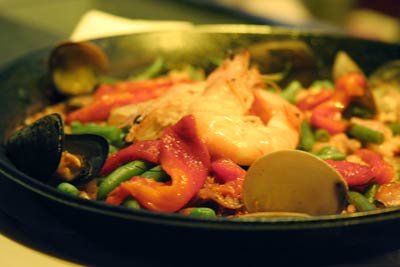 Wexler's 4505 Meats Mission Dog: Only on the lunch menu. I wrote a post about the entire meal [LINK], but this was the standout dish. How much can I say about a friggin hot dog? Well, I really like that this is treated with care and not a throwaway. 4505 has put a lot of though into creating a unique dog and this was the first (well, second, Pal's Takeaway did a damn good job too) time it was treated with appropriate reverence. Get some.
More tomorrow......