I'm nearing the end of my patience with pizza posts. It's incredible how many places are pushing the Neapolitan-style pizza in such a short period of time. I've tried to keep up. I've tried to impart my experience and wisdom. I've tried to stay positive. But lo, I think I'm going three-for-three in a string of reviews - yes another dud. A big steaming, loaded-with-expectations disappointment dud. But first, let's take stock: Pizzeria Delfina, Flour & Water, Pizza Nostra, Piccino, Pizzeria Picco, Pizzaiolo, Gialini, Ideale are all kicking out high-temperature oven, thin, Neapolitan style za, many of which are new to the scene. This doesn't even include the non-Neapolitan varieties like Arinelle, Paxti's, Little Star, Pauline's, Gaspare's, Amici's, Goat Hill, North Beach, Tomasso's, Golden Boy and countless others that capture the imagination of many a pizza lover. The stuff's everywhere.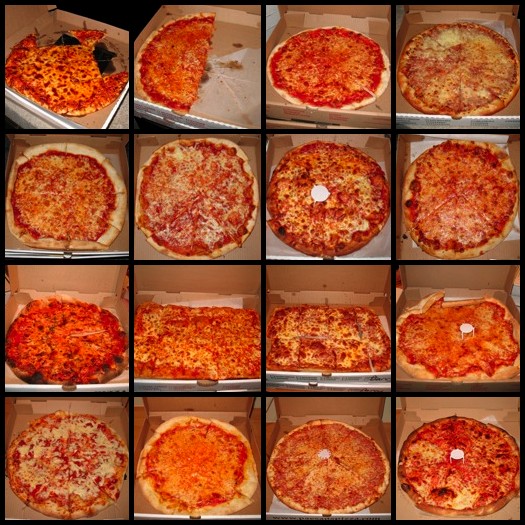 I've been waiting for Tony's Pizza Napoletana since I first heard about it last year. According to his web site (by the way, if graphic design is any clue to the ability to run a restaurant, this place was doomed from the get-go). His credentials seem strong.  Tony Gemignani is the first Master Instructor in the United States. Tony has won more World tiles and international awards than any competitor in history, including the Neapolitan Champion at the 2007 World Pizza Cup in Naples, Italy for the Best STG Neapolitan Pizza Margherita. Tony is the only Two Time Food Network Gold Medalist and is a certified master from the Scuola Italiana Pizzaioli.
Not only was Tony opening a school to teach other Pizzaoilis, but he was taking over La Felce on Washington Square Park to open a restaurant focused on pizza. He would have New York style, California style and the coveted Neapolitan style with 73 of his famous Margheritas made daily. I dreamed about this place. I waited patiently, as there never seemed to be any news about it. I called to inquire about signing up for classes (the schedule for the fall is not yet available).
Finally, last week I heard that Tony's was opening. We immediately made a plan and waited a few days to make sure they sorted out any initial issues. I new this was going to be a step above. But the disappointments started mounting up from the moment we entered. The design of the restaurant is straightforward enough. A lot of tile and pictures of pizza on the walls. We were seated in the first booth and the afternoon sun was bouncing off of the floor, practically blinding me. There were no shades, so I sat blinded the entire meal. It's not a huge deal, but you'd think a restaurant owner would consider all facets of the customer experience.
The waiter came and had horrible breath. It was salt in wound. Imagine being blinded and then getting a face full of munk? Eat a breath mint buddy. We ordered a Chalk Hill Sav Blanc (not much excitement happening on the wine list, BTW) which arrived room temperature. Add it all up now, blinded, breathed and yeasty warm wine.
We ordered a number of things on the menu. While I know this is supposed to be a pizza place, if you're going to have other things on the menu, you might try to make them appetizing. The Caesar salad could possible have been the worst I've ever eaten. Really. The lettuce was wilted (mind you they have only been open for 4 days - how could their produce go bad?), watery and flavorless - probably bagged and shipped half way across the country. The croutons were stale and also flavorless. It was a huge mess. The radicchio salad might have been even worse. The greens were actually browning. There were chewy bits of pancetta, Costco-variety bocconcini mozzarella balls and a smattering of balsamic. I made better salad in the 80s. One would expect that since they have a burrata on the menu, they would have avoided the crappy mozza for this salad.
Speaking of the burrata, we ordered it with San Daniele proscuitto. It was ok. Meh. A couple of slices of meat and some watery cheese. Again, I have to state that despite being a pizza restaurant, I can't let the entirety of the experience slide. So many people are providing the whole package that it's just inexcusable to be so negligent on the auxiliary experience. We also had a calzone. It was deep fried. Reminded me of boardwalk fare from my Atlantic City days. It was like eating a meatball and ricotta-stuffed-doughnut. I kinda liked it, except that it had too much garlic.
Ok, so on to the pizza. We ordered two of the Margheritas. They were good. Pretty darn good. Comparable to the best in the city. Nice balance of cheese, great crust, sweet sauce. It was really close, but I found it lacking something, and my 4-year old provided the answer. He was looking for a shaker of cheese on the table and mistook the salt. We caught him in time to not totally ruin his slice, but ultimately I wound up scavenging his scraps. It was the best piece I ate! After that, we all added a little salt to improve the pie.
So here's where I go off a little. Considering Tony's credentials, I am expecting to compare this to the pizza I eat in Italy. I've stated this numerous times that even the best pizza in the US somehow cannot stand up to your average pizza in Italy. At Tony's nearly everything is imported and he's got the cred (and had no problem touting that he's a master). It's gotta hold up. But in the end, I found that it was comparable to the Neapolitan pizza in the USA. I think Tony could stand along side Charlie and Craig and hold his head high. He might even win a competition. But against the stuff I ate in Italy, it's still not there.
As I am editing I can see how some might actually find this to be a positive review. Bottom line, if you are in North Beach and you want some pizza, you might saunter up to the bar at Tony's and order a Margherita and you won't be disappointed. I actually still might take the certification course. It's all about the pizza. Or, you could walk around the corner to Ideale and get comparable pizza with great starters, salads, sides, ambiance and service. The whole package.
I'm done with negative reviews for a while. I don't care if I eat crap for the next month, I will find something positive about which to write. I may be a Zealot, but I'm a nice one. Promise.